-59%
Soft Pregnant Pillow U Type Lumbar Pillow
$30.12 – $69.90
SPECIAL VOUCHER:
LINDA1 -2% OFF MINIMUM SPEND $50
LINDA2- 4% OFF MINIMUM SPEND $100
use this voucher during check out..
FREE DELIVERY WORLD WIDE
DELIVERY 18 – 30 DAYS
DELIVERY TO USA 4 – 13 DAYS
LOVE YOUR WIFES!!
TREAT OUR WIFE LIKES QUEEN…
Description
Soft Pregnant Pillow U Type Lumbar Pillow
Soft Pregnant Pillow Gravida U Type Lumbar Pillow Multi Function Side Protect Cushion for Pregnancy Women 2600g, 5.7 pounds (shipping form US and Belgium)
There are pillows and pillowcase (only cover), please select correct item which you want.
Details of the pregnant pillow
Note for the pregnant pillow:
1. There is a little color difference between the picture and the objectof the pregnant pillow.
2. The error of manual measurement is about 1-3cm.
3. Import duties, taxes and charges are not included in the item price or shipping charges.
U Shaped Pregnancy Pillow
Which pregnancy pillow is best, based on data is U Shaped Pregnancy Pillow due to these pregnancy pillows come in a large shape that resembles a horseshoe.
These are the largest pillows when compared in size with other types of pregnancy pillows.
The head is placed on the curve of the U, if one arm of any side is hugged; the other side supports the back.
With a U-shaped pregnancy pillow, the whole body gets support. This includes the belly and the back as this type of pillow suits the pregnant women who prefer to sleep sideways or on their backs. The U-shaped pillows have hourglass-shaped inner curves that adapt better to the body's natural curves.
If a pregnant woman sleeps sideways, the U-shaped pillow will provide better support to the back and belly, thus giving more comfort. Its inner contours are actually designed in such a scientific way that it follows the natural curved shape of the body.
Based on study both C and U Shaped is suitable for pregnant woman. But U Shaped is the best due to The U shaped pregnancy pillow is more flexible than all the pregnancy support pillows available in the market,
6 Benefits of Using a Pregnancy Pillow
The most obvious benefit of a pregnancy pillow is that it helps the woman sleep better by providing support to the body. Following are some of the other benefits of using a pregnancy pillow:
1) Designed for Pregnant Ladies
The U shaped pillows are specially designed pillows for pregnant ladies. Mothers-to-be appreciate its comfort design, which offers balanced support to the most sensitive areas like midriff by hugging front and back simultaneously.
Have precise curves that bestow support to the ever-growing womb without shuffling it again and again. The pregnant women can comfortably snuggle up in these full-body pillows by attaining the most effective positions while resting their head, back, and pelvic area.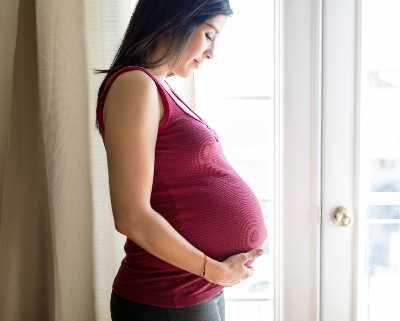 2) Provides Full Body Support unlike other Body Pillows
Pregnancy pillows provide users with full-body support. Unlike Wedge pillows and straight body pillows, both of these pillows can benefit you a lot with its user-friendly design by assisting your head, shoulders, belly, and lower limbs at once.
They are symmetrical and bestow your required support to every area separately. These excellent maternity pillows can be hugged equally from the front and the back. They don't leave any chance for rolling to the other side.
The unique design of these pregnancy pillows helps to bear and provide support to belly load.
3) Don't Require Repositioning
You can use it without tossing it every time you change your posture and alter the sides. The users will not require repositioning this pillow by carrying it as a whole again and again. They can alter to either side without any worry.
4) Don't Require Head Pillow
The U shaped pillows prevent you from having multiple pillows tossing on your sides and bestow your required support to every area separately. With the body pillows other than U shaped pillows, you require an extra pillow to support your head. U shaped pillows fulfill this requirement with a firm and comfy head support.
5) Health Benefits
The size and pattern of these body support pillows enable pregnant ladies to be carefree about having any dangerous position accidentally during sleep. They provide spinal alignment; limbs support, appropriate blood circulation, and pelvic pain relief and even more health benefits.
Both of these bed accessories provide relief to usual body aches that pregnant ladies often complain about. They help to release physical stress and body exertion by providing precise backing to every curve of the body. The inflammation of limbs is a common phenomenon in expectant mothers. The pillows alleviate the situation to a great extent. They also resolve the troubles of ligament stress.
6) Pregnancy Pillow For Sleeping
These pillows allow pregnant women to acquire their favorite position in the best possible manner. Both C shaped and U shaped maternity support pillows are highly adjustable to either put between knees, over the limbs or beneath belly to provide support.
When Can You Start Using a Pregnancy Pillow?
While there is no fixed time to start using a pregnancy pillow, you can begin making use of it when you feel uncomfortable while changing positions during your sleep. At around 20 weeks of pregnancy, the belly starts to expand, causing pain in the ligaments and other parts of the body due to the increase in weight. This is a good time to start using a maternity pillow.
Visit our shop:
Additional information
| | |
| --- | --- |
| Weight | 2000.0 g |
| Dimensions | 40.0 × 30.0 × 10.0 cm |
| Brand Name | None |
| Removable and Washable | Yes |
| Size | 140x80cm, 55×31 inches |
| Color | cover black, cover grey, cover pink-blue, pillow black, pillow blue, pillow blue-grey, pillow cotton blue, pillow grey, pillow L-blue-grey, pillow pink-blue, pillow pink-grey, pillow purple, pillow white |
| Material | velvet and cotton |
| Model Number | BM90133-3D pregnant pillow |
| Shipping form US and Belgium | 2600g, 5.7 pounds |
| Name | U type pregnant waist pillow |