FOOT MASSAGE TAIJI ACUPOINT MAGNETIC or known acupressure magnetic massage foot therapy.
Foot Massage Benefit
If your feet are aching after a long day, a foot massage can give you much-needed relief. But it doesn't just feel good. Research shows that it has health benefits, too.
Even a brief foot massage can ease stress and perk you up. That's a good thing, because cutting stress and bosting energy raise the odds you'll make healthy choices like exercising and eating right.
But how does massage do all that? It activates your nervous system, which increases feel-good brain chemicals like endorphins. In one study, people who got foot massage after surgery to remove their appendix had less pain and used fewer painkillers.
That's not all, though. Foot massage boosts your circulation, which helps with healing and keeps your muscles and tissues healthy. That's especially important if you have health problems that add to poor circulation or nerve damage, like diabetes.
Rubbing your feet also gives you a chance to check for other problems, like sores, corns, and ingrown toenails. If you have poor circulation, checking your feet for sores is a good idea.
The standard practice to relief your foot pain is go to expensive foot massage or buy a electric foot massage cost thousand of dollar.
BUT lindabeauties present a Foot Massage Magnetic with cost below USD25. It is Foot Massage Magnetic effective to relief our foot pain?
Health benefits of wearing acupressure slippers
Most of us do not realise that the entire stress and weight of our body is carried by our feet and feet are the most ignored part of our body. We should take care of our feet and keep them strong with daily foot massages for a few minutes. This is where acupressure footwear comes into play. Because massaging your feet every day may not be feasible, you can give acupressure slippers a try.
Here are six health benefits of wearing acupressure slippers:
Walking in acupressure massage slippers can relieve foot pain and can induce better sleep. These slippers target the nerve endings, as a result, you have better blood circulation.
Many nerve endings linked with various organs are situated right below the feet. Acupressure sandals massage the feet and act as a pain reliever. The area in the center of the toe and the ball of the feet are linked to mental and emotional health. Targeting these areas by wearing acupressure sandals can relieve symptoms of depression
Walking wearing the acupressure slippers can help in reducing body pain. The pain arising from ankle, neck, migraine headache, lower back and thighs can be fully relieved by walking in these slippers for 30 minutes every day.
Many women suffer from extreme mood swings and aches due to premenstrual syndrome. Symptoms of menopause such as depression, backache and foot ache can be reduced by using acupressure slippers. The area where the big toe meets the rest of the feet is an essential point to relieve stress caused by such symptoms
Restless leg syndrome is where you have this constant urge to move your leg while experiencing pulling or burning sensation. It is more of a neurological disorder. Walking on massage slippers targets the specific nerve endings that relieve the pain and increases blood circulation, which enables perfectly healthy feet.
Stimulating the feet is said to relieve and treat various health issues. Acupressure sandals can address symptoms of fatigue in patients diagnosed with multiple sclerosis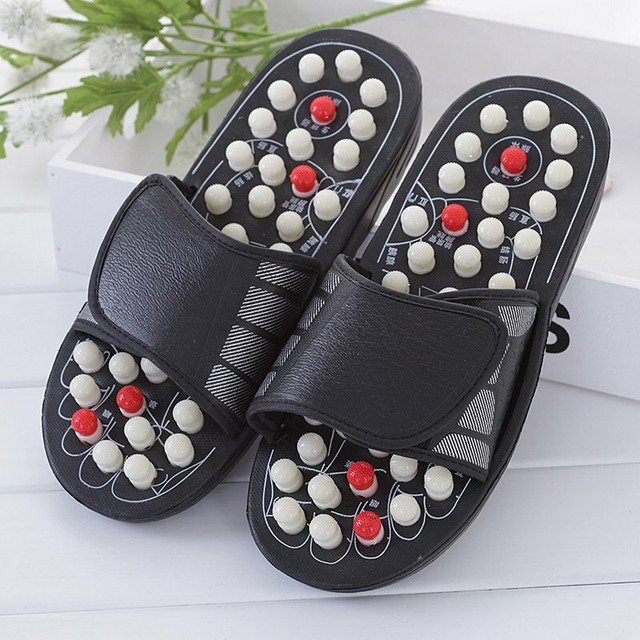 IT TIME TO CHECK OUR FOOT MASSAGE TAIJI ACUPOINT MAGNETIC SLIPPER/SANDALS.
FOOT MASSAGE TAIJI ACUPOINT MAGNETIC Features:
A magic tape for a perfect and comfortable fit.
Placed carefully on special points to accurately stimulate specific nerve endings.
Reap various health benefits just by walking around home, office, at the park, or anywhere you desire.
Description:
It is a practical and useful tool for anyone who wants to be healthier and happier.
Acupoint Massage Slippers Sandal
SPECIAL VOUCHER:
LINDA1 -2% OFF MINIMUM SPEND $50
LINDA2- 4% OFF MINIMUM SPEND $100
use this voucher during check out..
FREE DELIVERY WORLD WIDE
DELIVERY 18 – 30 DAYS